A Complete Guide to Planning Your Own Funeral or Memorial Service
Planning your own funeral can sound like a complex and emotional challenge—so we developed this straightforward guide to walk you through the process, help you identify what option is best for you, and discover the easiest way to have a plan in place for your final wishes.
Why Should You Plan Your Own Funeral?
Although it may feel difficult to plan your own funeral or memorial service, by doing so, you'll save your family the emotional toll of planning it after your passing. Plus, you'll be able to choose exactly what you'd like your sendoff to include, eliminating any confusion or uncertainty for your loved ones.
Benefits of planning your own funeral include:
Ease the burden, stress, and uncertainty on your family and your loved ones by making the decisions ahead of time—so they know just what to do when the time comes.
Enjoy peace of mind, knowing that your final wishes will be followed.
Planning your own service in advance can help you and your family save money and unnecessary hassle.
Protect your family from the rising cost of funerals with inflation.
Prevent future arguments between family members during a difficult time by ensuring that all the specific details are mapped out for them.
How to Plan Your Own Funeral: Step-by-Step
Ready to start the process? Keep reading for six simple steps to seamlessly pre-plan your own funeral or memorial service. Don't worry if this seems intimidating—it's not! In fact, you can plan your whole funeral for free with Everdays. We'll make sure you have what you need to make your funeral planning decisions—and instantly give your loved ones access to your plan so all the answers they'll need are just a click away when the time comes.
The first step to planning a memorial service is to start with the basics. How do you want to document your final wishes? With Everdays, we make it simple: Save your wishes 100% online in a free account, easily accessible for you to update, change, and provide access to your loved ones at any time.
Once you've decided how to document your wishes, the most important part of your plan is to determine what type of experience you want to leave behind for your family and friends. Are you looking for a formal, traditional funeral service for loved ones to honor your life? Or perhaps you're imagining a more modern memorial service held at your favorite brunch spot? Or even a unique Celebration of Life complete with a balloon release?
Deciding the types of services, events, and gatherings you want to leave behind for your loved ones is the most beautiful gift you can provide—it gives them direction and answers on how to say goodbye in the midst of a very difficult time. If choosing an experience feels overwhelming, don't worry! We're here to help. Our free funeral plans make it simple and easy to find the experience that's right for you. We provide a pleasant experience that walks you through the process, asks engaging questions, and provides video tutorials to guide you every step of the way.
Once you've started making your funeral planning decisions, you'll also want to make sure the right family members have access. Whoever it is – your spouse, partner, children, siblings, close friends – we make it easy to give loved ones access to your plan, instantly giving them peace of mind knowing they have all the answers they'll need.
You can choose between three major categories: Burial, cremation, or donation.
Burial:
Opting for a traditional burial is one of the most expensive options since it requires the purchase of a plot of land to bury your body. Most cemeteries also require the purchase of a vault—a concrete liner that goes inside the grave to ensure the land doesn't collapse. You'll also usually pay a lifetime upkeep fee to the cemetery. For a burial, the minimal cost is generally around $4,000—but most arrangements that include a burial are often upwards of $10,000.
Cremation:
Cremation is a much less expensive option to handle your remains. Many families like that cremation offers them a bit more flexibility when it comes to the timing of a memorial—there's no rush to have a service because the body is decomposing. Cremated remains are also easy to bury, scatter, or keep.
Donation:
Donating your body to science is another popular option, although it might take a bit more preliminary paperwork and research. If you live near a medical school, you can donate your body to help students learn about the body—or you can even choose a specific cause to donate your body to, such as Alzheimer's research.
Burial Options
In-Ground Burial: This is the traditional burial which you're most likely familiar with: A casket is placed inside a burial vault (a concrete layer) to ensure that the ground stays intact and doesn't collapse inward.
Above-Ground Burial: An above-ground burial vault preserves the enclosed casket in a crypt or niche, commonly referred to as "entombment." These above-ground burials may be made within a community mausoleum, a private family mausoleum, a columbarium, or a sarcophagus.
Private Mausoleum: A mausoleum is an above-ground structure that is built to hold the remains of a single family. Private mausoleums are much more expensive than a traditional burial—but if you're seeking to be buried with your family, this is the best option.
Natural Burial: A natural burial seeks to minimize the environmental impact of a burial. Although the specifics of these burials depend greatly on your region and culture, it generally requires no embalming fluids or caskets—instead, the remains are placed directly into the earth to allow the body to naturally decompose. Sometimes, the term "natural burial" may also indicate the cemetery's intention to minimize resources or simply provide a natural, serene environment.
Green Burial: A specific type of natural burial, a green burial is an environmentally sustainable approach to burial. In a typical green burial, the body is not cremated, prepared with chemicals, or buried in a concrete vault—instead, it's placed in a biodegradable container. Some cemeteries with green burials refuse to use any chemicals, such as pesticides or insecticides, on the land as well.
Cremation Options
If you opt for cremation after passing, you can choose what you wish for your remains.
Urn or Keepsake Containers: After cremation, urn or keepsake containers offer a way to memorialize your life and keep you present in the lives of your loved ones. Depending on the container's size, style, and material, urns or keepsake containers can range from $70–$2,250.
Spreading Ashes: Many families embrace spreading their loved one's ashes in a special, intimate location that meant a lot to them. This ritual can be deeply healing and cathartic for family members and friends. Scattering ashes in a particular garden or memorial park can cost between $100 and $1,000, depending on the facility you choose and its location. If you choose to scatter ashes on private land you own, it's free; for public land, including national parks, permits are sometimes required to scatter ashes.
Memorial Reef: Memorial reefs are a unique option to memorialize your life while preserving and protecting the marine environment. Made of environmentally safe concrete, a memorial reef is placed on the ocean floor and quickly assimilates into the natural environment, creating marine habitats for fish and sea life. Pricing typically ranges from $2,000 to $7,000 depending on the particular package.
Cremation Jewelry for Ashes: Allow your family to keep you close through cremation jewelry, such as necklaces and pendants. For cremation jewelry made from brass, the price can be as little as $50. For gold jewelry, it can cost upwards of $300.
Burial: Once your body has been cremated, your ashes can also be buried in a cemetery to provide family and friends with a permanent memorial to visit in your memory.
Should You Hold a Viewing?
Some people want to give their loved ones a chance to visit with the body and pay their final respects in an effort to bring closure to surviving family and friends. As you outline your final wishes, decide whether you'd like to hold a viewing or not. For many, seeing the body can help mourners accept the death and begin the grieving process fully.
If you decide you'd like to hold a viewing for your family and friends, it can take place at a funeral home, church, synagogue, or another place of worship. You can also choose to host a viewing at a specific location with sentimental significance, provided the property and the funeral home you're working with allows it.
When it comes to cost, you'll most likely need to pay a fee for the space where the viewing is hosted—whether that be for a funeral home, church, or synagogue—which costs around $500. You'll also need embalming and body preparation services, along with a casket, which can cost upwards of $2,000.
So far, you've chosen which type of experience you'd like loved ones to participate in, you've picked the person or people who will make sure your funeral plans are seen through, you've considered how you'd like to handle your remains, and you've decided whether you want to hold a viewing. With these four major steps of the process decided, you can spend some time focusing on the personal details that set the mood of your funeral or memorial service.
Take a few minutes to review the following list and identify any details that are important to you. The most meaningful funerals and memorial services reflect the life of the person—so consider how you can best honor your life, your passions, your interests, and your accomplishments through these final details:
Flowers
Music
Location
Type of Casket or Urn
Open or Closed Casket
Where the Remains Will Go
Obituary Details and Key Points to Include
Clothing, Glasses, and Jewelry for Viewing and Final Resting
Memorial Service Location
Now that you've chosen what type of experience you want to leave behind, how you want your body to be handled, whether or not to have a viewing and the small intimate details of your funeral or memorial service, it's time to calculate the cost.
Funeral Service with Burial: A funeral with a burial today typically costs between $7,000–$12,000. The median cost of a funeral and burial runs around $9,135. Your funeral will include viewing and burial, basic service fees, transporting your remains to a funeral home, a casket, embalming, and other forms of preparation. These prices typically don't include a burial plot, flowers, wreaths, or headstone.
Memorial Service with Cremation: A cheaper option than a funeral, a memorial service with cremation typically costs between $6,000–$7,000.
Your funeral plan includes many personal decisions that can impact the overall cost of your services—including the type of services, where they are held, and which funeral home will provide the services. On Everdays, you can make your free funeral plan completely online and then instantly view personal pricing to determine just how much your custom plan will cost.
Interested in learning more?
Click here to get started
Option #1: Savings
Once you've determined an estimate of how much your funeral or memorial service will cost, you can elect to set aside a specific amount each month until you have enough budgeted to cover your final expenses. This option is less reliable and can sometimes result in your family and friends paying the difference if your savings weren't enough.
Option #2: Life Insurance
Choosing life insurance to pay for burial expenses is a popular option because it provides immediate protection. The downside to traditional life insurance is that payment can take weeks or months to be provided to your beneficiary at the time of need—and during this process, your loved ones will be forced to navigate the stress and burden of paying for services upfront.
Option #3: Estate Liquidation
Although this is not the best option in many cases, you can rely on liquidating your estate—including your house, investments, and other valuable property as a way to pay for your final expenses. We generally recommend this as a last resort as it can take a long time for your family to liquidate your estate, leaving them stretched to pay for your funeral or memorial services out of pocket.
Option #4: Prepaid Funeral Plans
Choosing a prepaid funeral plan is the easiest way to feel at peace, saving your family stress and uncertainty. At Everdays, we offer a number of personalized funeral and memorial service packages based on your funeral planning decisions to support your loved ones after your passing—and ensure that your final wishes are observed. Prepaid funeral plans cover the costs of the services you want to put in place with an insurance policy, and arranges for funds to be paid directly to your chosen funeral home at the time services are provided. This saves your family from having to navigate through difficult decisions and unforeseen expenses even for a short while—all the decisions and finances are taken care of for them.
Start with a free plan & quote here.
With your funeral plan successfully complete, it's time to share your final wishes with your loved ones.
This conversation can be incredibly difficult and emotionally taxing, but it's important to remember that talking about death is natural. Although it's a tough process—and certainly a hard conversation—taking these steps today will provide you with true peace of mind and ensure a pleasant experience for your family.
At Everdays, we've created a way to seamlessly share your funeral plans with loved ones – all without saying a word or jumping into a heavy conversation – if that's more comfortable for you. Just make your free funeral plan and save it to your Everdays account. Then, you can instantly share access to anyone you choose, and your loved ones will have all the answers they'll need to help them through a difficult time.
---
Not at all. In fact, pre-planning your own funeral is a very normal, responsible, and helpful thing to do. In doing so, you're providing true peace of mind to your loved ones—and you're guaranteeing that you receive the exact final sendoff that you want. By pre-planning your final plans, your family and friends will face far less emotional stress and complicated decisions during a heart-wrenching time.
According to the National Funeral Directors Association, the average cost of a funeral is just under $9,000. Cremation is a bit cheaper, usually around $5,000. Create your free funeral plan on Everdays and you'll instantly see personalized pricing for how much your intended plan will cost.
At Everdays, we believe that it's never too early to be prepared. With the average age of retirement in the United States around 59 years old, many early retirees take some time to consider how they'll want to be remembered and find a funeral or memorial service plan that fits their final wishes. Don't wait until it's too late—planning your funeral should be done right alongside your other retirement, financial, and estate plans.
Yes! When you secure your final arrangements through Everdays, we pride ourselves on transparency and make sure that you'll never face any hidden fees or confusing adjustments. Payments are held by a 100-year-old, A+ rated insurance company. We also fully vet and contract with the very best funeral homes nationwide to ensure our plans are fulfilled by trusted funeral professionals who will guide your family when the time comes.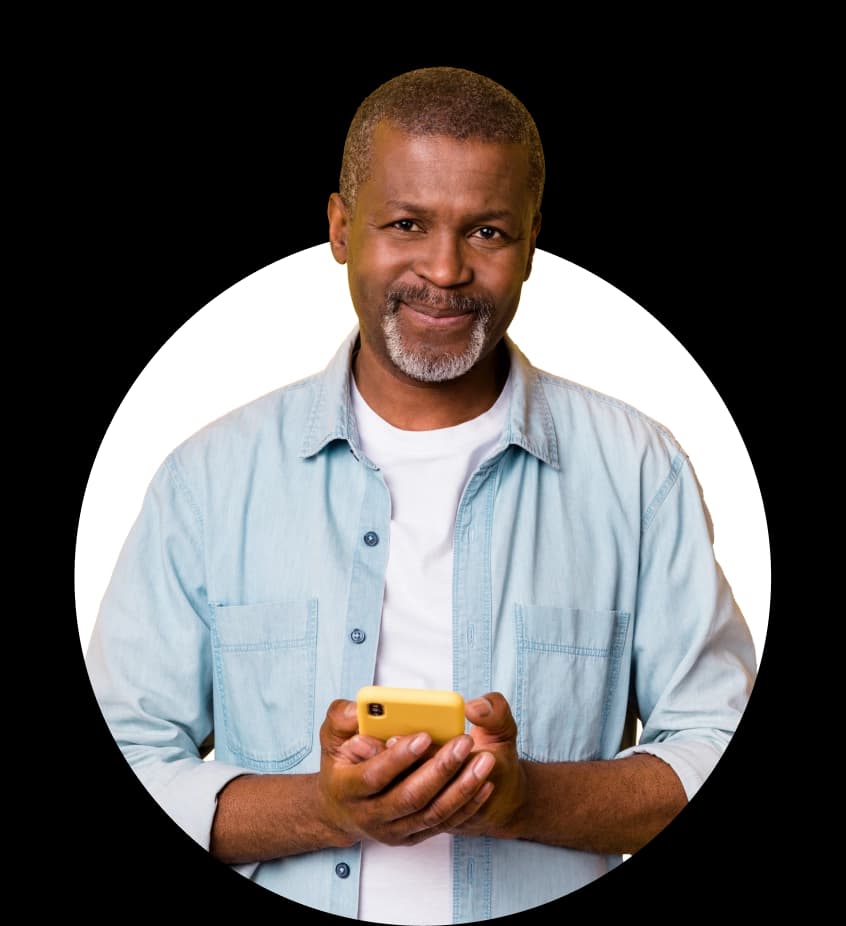 Have a Funeral Plan Ready for When That Difficult Time Comes
Planning your own funeral or memorial service is the most compassionate way to make sure that your family and loved ones are cared for and supported after your death. Planning your funeral or memorial service and securing it with Everdays unlocks everything you need to make your final send off as easy as possible on your family and friends, so they can focus on comforting each other as they gather together to say goodbye.
Get started today and make your free plan in a matter of minutes.